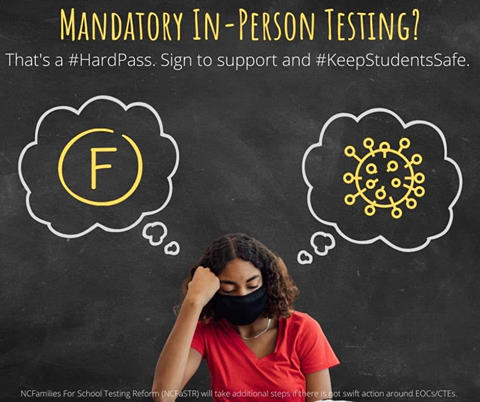 As an advocate for public education some struggles at least make sense. A push and pull about who holds power, state control versus local control. Some are frustrating because the struggle is over an ideological differences like privatization market competition versus providing a public service for the common good. Then there are the struggles that make zero sense to me. Standardized high stakes testing during a Pandemic falls into that category.
So thanks to the federal government, school districts all across the nation are being forced to administer standardized tests this year. In North Carolina, these tests are mandated by state law to be in person and for high school students they count for 20% of their grade. When the federal government decided not to provide waivers, our state government decided not to change any of the testing requirements.
DeVos has claimed her reasoning is to measure learning lost during a Pandemic, but I believe it was part of a deeper push by the administration to push in school learning over virtual options. Even with her reasoning, how will this data prove anything we don't already know. We know the Pandemic is disproportionally effecting our already marginalized students.
There will be plenty of time after the danger is past to assess and work with students who are lost in the digital divide or just struggling during this historic event. Did I mention danger? Yes, danger. There is real danger in allowing in person testing during the real threat of a virus. Our first and only responsibility as a society is to keep everyone safe. Having an in person tests risk lives so someone can have a data point.
In North Carolina, the deadline looms large. In December our Early College and modified calendar schools will be tasked with administering in-person final End of Course exams. This includes our CTE (Career and Technical Education) students as well. The grade on these tests will count for 20% of the students' final grade. Many of our students and parents made the decision for a virtual option. Respect that decision. Time is running out to keep these students and teachers safe.
Yet, it feels like there is little to no movement on the issue. Do leaders not realize how soon testing begins? Do they not realize the danger to students, teachers, and staff? I hope they do.
We can all argue who fault it is until we are blue in the face. I could care less. What I do want to see is action. I would like to see our leaders act as fast as they can. Now is not the time to play political games. Now is the time to keep our students and teachers safe.
So, I don't care if it is a state wide bill, or an executive order, we need action on this issue now! Our students shouldn't be left with the choice of a bad grade or risk of infection. That is a terrible choice and not one that should ever be put on the shoulders of our youth. None of this makes any sense as a policy, so fix it.
Add your voice to the issue! Sign the petition.